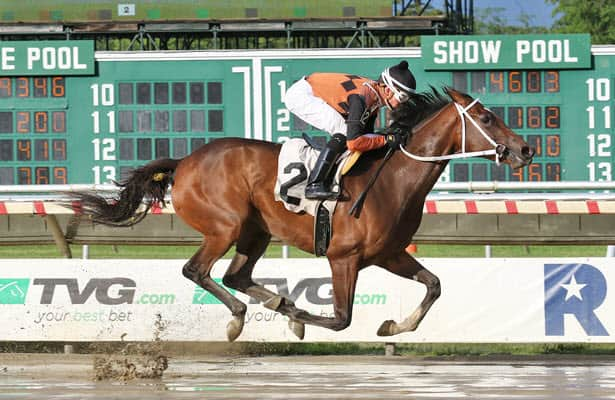 This Ward filly can upset the Schuylerville
Opening day at Saratoga should be a national holiday. No racing encounter is met with more anticipation than when they open the doors to the Great Oval on Union Avenue each summer. For those who have already visited, the Spa inaugurates an intense connection to the race that no other track can match. For racing fans, this is home.
In honor of the opening day, and in anticipation of all the wonderful 2 years that will be unveiled this summer at Saratoga, let's take a look at the afternoon co-feature, the Schuylerville issues (G3). The historic race for the Fairest Ensemble has been strong this year and is led by the Happy Soul streak.
Click here for Entrances to Saratoga.
Trained by Wesley Ward, Runhappy's daughter finished second on a sloppy track at Keeneland behind male teammate Nakatomi on his career debut on April 14. On two subsequent starts she was a horse on fire.
First, she went 11-3 / 4 in length on May 13 in a five-stadium goalless special weight at Belmont Park. Then Happy Soul returned three weeks later to dominate the Astoria Stakes by 11 1/2 lengths. Recently spotted in the morning working out with older top sprinter Kimari, she is the horse to beat in the Schuylerville.
Coming off short pitches at Belmont Park, and probably as a very big favorite, I'll try to beat her. In PillarI believe Coach Butch Reid has a very lively candidate to do the job.
You will remember that last summer the veteran coach brought Véquiste from Parx to Saratoga to beat the field in the Spinaway Stakes (G1) en route to an Eclipse Award. Mainstay is the half-sister of Vequist, out of the Mineshaft mare Vero Amore.
A day after Happy Soul won the Astoria, Mainstay debuted at Monmouth Park. First-year dad Astern's bay daughter made the most of her unveiling, romping home nearly eight lengths on a sloppy, sealed main track in Monmouth Park.
If you don't know Astern, Medaglia d'Oro's son was a star sprinter in Australia who is now at Darley America.
It was a very impressive start for Mainstay, and one that could have been even better than it looks on paper. Not only did she win the 4 1/2 stadium race by 7 3/4 lengths in solid time and hand, but she opened over 20 lengths at a gallop.
With six weeks between the first win and the Schuylerville, Mainstay took care of a few training sessions at their home port of Parx. Both workouts were balls and then some. On June 23, she shot a four-stage shot in: 45.3, then on July 3, she recorded a five-stage work in: 58.3. Training faster than most horses will ever run, she looks set for a big push on Thursday at the Spa.
In a field filled with impressive first winners – Pretty Birdie, Pipeline Girl and Velvet Sister all also looked very good at winning their debut – the Schuylerville should be an exceptional race. Happy Soul is the big favorite and to beat, but I'm going with Mainstay.