Three Land Rover models took the top three spots for used car retail margin in March, according to data analyzed by Dealer Auction's Retail Margin Monitor.
The Land Rover Discovery 4 was the most profitable, with an average retail margin of £4,200, the highest average profit margin Dealer Auction has recorded so far in 2922.
It was followed by the £4,000 Range Rover Sport and the £3,600 Range Rover Evoque.
Although Jaguar models did not feature in the top 10, the British brand ranked second behind Land Rover in the top 10 brands by retail margin analysis, averaging £2,950.
Dealer Auction's Director of Sales and Marketing, Sarah Marley, said: "The data clearly shows that used 'Landies' are the ones to watch for dealers looking for extra profit opportunities.
"Despite the current pressures on consumer pockets, the earnings performance of these premium vehicles indicates that buyers are far from discouraged."
Pre-owned premium brands generally attracted the largest retail margins in March, accounting for seven of the top 10 models overall and seven of the top 10 brands. Land Rover was the top performing brand with an average retail margin of £3,500, and Jeep also performed well, showing that used SUVs continue to fetch big bucks for dealers as drivers seek practical, lifestyle-inspired vehicles.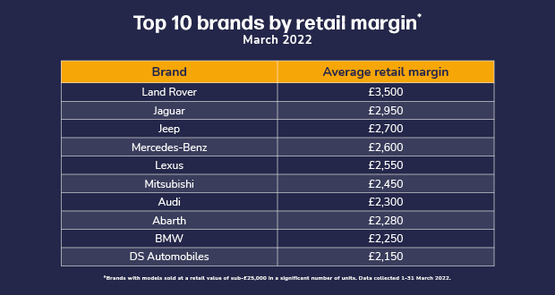 Richard Walker, Director of Data and Insights at Auto Trader, which jointly owns Dealer Auction with Cox Automotive, added: "Once again, the RMM offers a fascinating look at the many opportunities available in the market. While there are signs that the exceptional levels of demand we saw in 2021 are easing slightly, consumer appetite for new and used cars remains comfortably above pre-pandemic levels.
"And despite potential economic headwinds, our research shows that consumer confidence among car buyers is robust.
"Combined with current supply constraints, these market dynamics will ensure that used car prices will remain high for the foreseeable future and, in turn, will continue to deliver positive trading margins."
Recent news that fleets are keeping their vehicles longer, impacting the supply of used stock for dealers, should keep margins strong for some time as consumer demand exceeds supply .